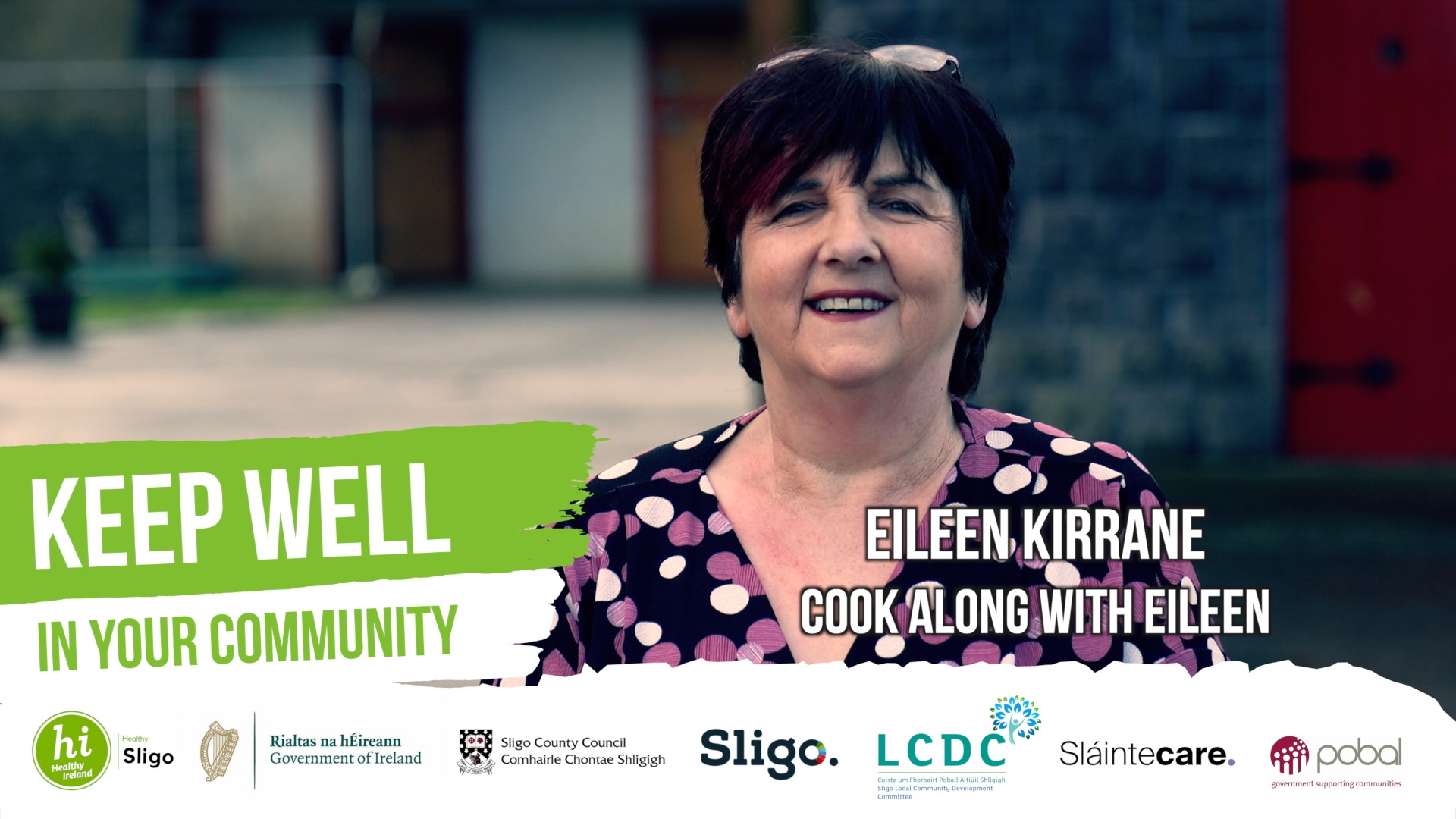 Eileen Kirrane is one of those people who never seems to slow down.  While things have been quieter for most of us during lockdown, her regular online cookery classes have been drawing thousands of views at a time.  And while the pandemic has been challenging in so many ways, some of us have been able to improve our culinary skills, thanks to people like Eileen and the Keep Well Sligo campaign.
Like many working in the hospitality sector, Eileen's catering business ground to a halt when the pandemic hit.  Gone were the launches, the events and parties and the bookings dried up.  But standing still was never an option, and, having renovated her garage into an offsite kitchen she set to work developing online cookery classes for all levels.  And this has been very useful for people during lockdown.
"Sligo County Council asked me to do an age-friendly cookery programme,"
she says of her most recent online cookery classes as part of Healthy Sligo, a project aimed at providing life-skills to people cocooning at home during the pandemic.
"It's a very casual, fun interaction.  We chat and we talk, and we discuss recipes, we give hints along the way.  It's just going really, really well."
The classes have been taking place every Wednesday and Thursday.  The participants range from people with no prior cookery skills to people who have been cooking for many years.  Divided into two classes, 24 people log on over Zoom as Eileen brings them through each step.  Ahead of each class, Eileen sends out a list of ingredients and the utensils involved, as well as the method, so everyone is ready to cook when the time arrives.  During the class itself, all of the participants prepare a main course and a dessert.  After a couple of hours, not only will everyone have prepared a delicious meal, but they'll have done so in a fun and interactive way.
For many of the participants, the Zoom technology was a challenge to begin with, but Eileen was able to help everyone get online and this has also provided them with the skills and confidence to use digital technology outside of class to communicate with friends and family. And while learning to cook is the key aim, the classes are about more than that.
"It's not just about cookery.  To go on Zoom isn't a natural process for anybody, never mind people who are a little bit older," she says. "First of all they had to get over that hurdle.  We take our time. I can see when everyone is working and I'm ready to move on to the next step.  And at the end, we'll always sit down, have a cup of tea, chill out and have a little chat."
For many, social isolation has been a challenging aspect of lockdown, so online classes like these have been an important social outlet for people living on their own.  How does Eileen feel about how people are coping on their own during the pandemic?
"It's mostly the interaction, and something to get up in the morning for," she says of the reasons people might sign up.  "This was set up with both in mind, the interaction and the cookery.  I hope that when Covid is over, that they will remember this with fondness and branch out."
While the classes have recently concluded, Keep Well is planning a new cookery course with Eileen aimed at cooking with the family, which will be a great way to get the entire household involved.  So if you want more information on that course email healthysligo@sligococo.ie.  You'll learn a lot about how to prepare simple, nutritious meals, and in an environment which is always welcoming, inclusive and fun.
Eileen is always available to provide cooking tips, and she has also self-published a number of cookery books.  Her enthusiasm is infectious, and we believe that she could turn anyone – no matter how limited their experience or knowledge – into a talented cook.  She can be contacted at info@eileenskitchentable.ie.  So if you would like to broaden your knowledge of cooking – or even simply to make a start – then get in touch.
The Keep Well initiative is being delivered by Sligo County Council through the Healthy Sligo, Keep Well and Community Resilience Fund. Please visit our website www.sligococo.ie/keepwell for resources and information, as well as staying up to date on all of the new video releases.